Everyone loved my parents at the holidays. Only I know their secret.
Holiday parties during my childhood meant the overwhelming prospect of facing more than 100 relatives, many of whom we would only see once every year.
I dreaded these parties and struggled to remember names.
My parents, on the other hand, loved these parties and were everybody's favorites. People came to life when they saw my Mom and Dad. They knew how to create positive energy and make every person feel like they were the most important soul in the room.
How did they do it?
I unlocked their secret when I was still in preschool. After a long day with the whole extended family, all seven of us kids piled into our old Ford woody station wagon. Exhausted from nonstop eating and playing with cousins, my sisters quickly fell asleep. I, however, watched my Mom pull a secret book out of her purse. As they started talking she began writing, and I quickly came to understand the secret to their mastery of family relationships.
Like two undercover spies out of a James Bond movie, they would record all the intelligence that they collected from every aunt, uncle, niece, nephew, fiancé, spouse and friend. They would jot down the big things (i.e., "Jimmy's mother-in-law is fighting cancer.") and the little things (i.e., "Jimmy's son, Brian, made the travel soccer team.")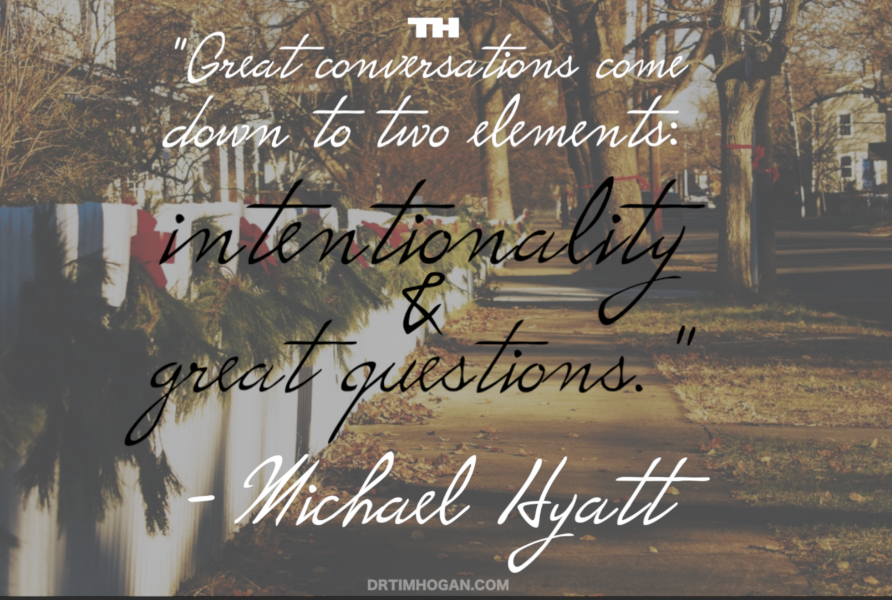 The following year I watched how this secret record book prepared them to bring people to life at the next holiday party. After all seven of us piled into our station wagon my Mom would pull out the record book and go through all intelligence gathered at the last party. She and my Dad would prepare and coach each other to have meaningful conversations with every family member, young and old alike. ("Let's remember to ask how Jimmy's mother-in-law is doing. And let's track down Brian and see if he is enjoying soccer.")
I think this is exactly what Michael Hyatt has in mind when he says:
"Great conversations come down to two elements: intentionality and great questions."
You and I have the power to stimulate great conversations that will create positive energy and deepen our connections with family members. Even without a secret record book, we can still take on holiday parties with intentionality and great questions.
You might want to try this: Before walking into a holiday gathering, ask yourself a few questions, like:
"Who can I expect to see at this gathering?"

"What is happening in their life right now? What are the blessings? What are the burdens?"

"What questions would make good conversation starters, even for people I haven't yet met?" Michael Hyatt has a nice blog to help.
The holidays are officially here and you and I have the power to use gatherings to deepen our human connections. We can make them better than ever by simply becoming more intentional and asking great questions.